"BBC microbit the next gen: a new partnership between the foundation, bbc education & Nominet to inspire primary children to get more confident with technology & digital skills through the donation of 30 micro:bits to every UK primary school."
This is amazing news for primary schools - order a class set today and get in touch if you need any help or guidance on using them. The micro:bit offers a hands on application to computing so children can see a physical output to the programming they are doing.
Order your set today using this link - https://microbit.org/thenextgen-registration/

I am pleased to be able to offer Online Safety sessions in your school. This could be:


Parent and Carer Training
Staff and Governor Training
Workshops for students
Online safety is essential for all people to safely navigate the technological world we live in today. The only way fro young people to stay safe, is to ensure they are educated and also the people around them. If you as a parent do not fully understand the varying platforms your child is visiting, how can you keep them safe. Our sessions are there to help educate all to how to keep yourselves, your children and your pupils safe online.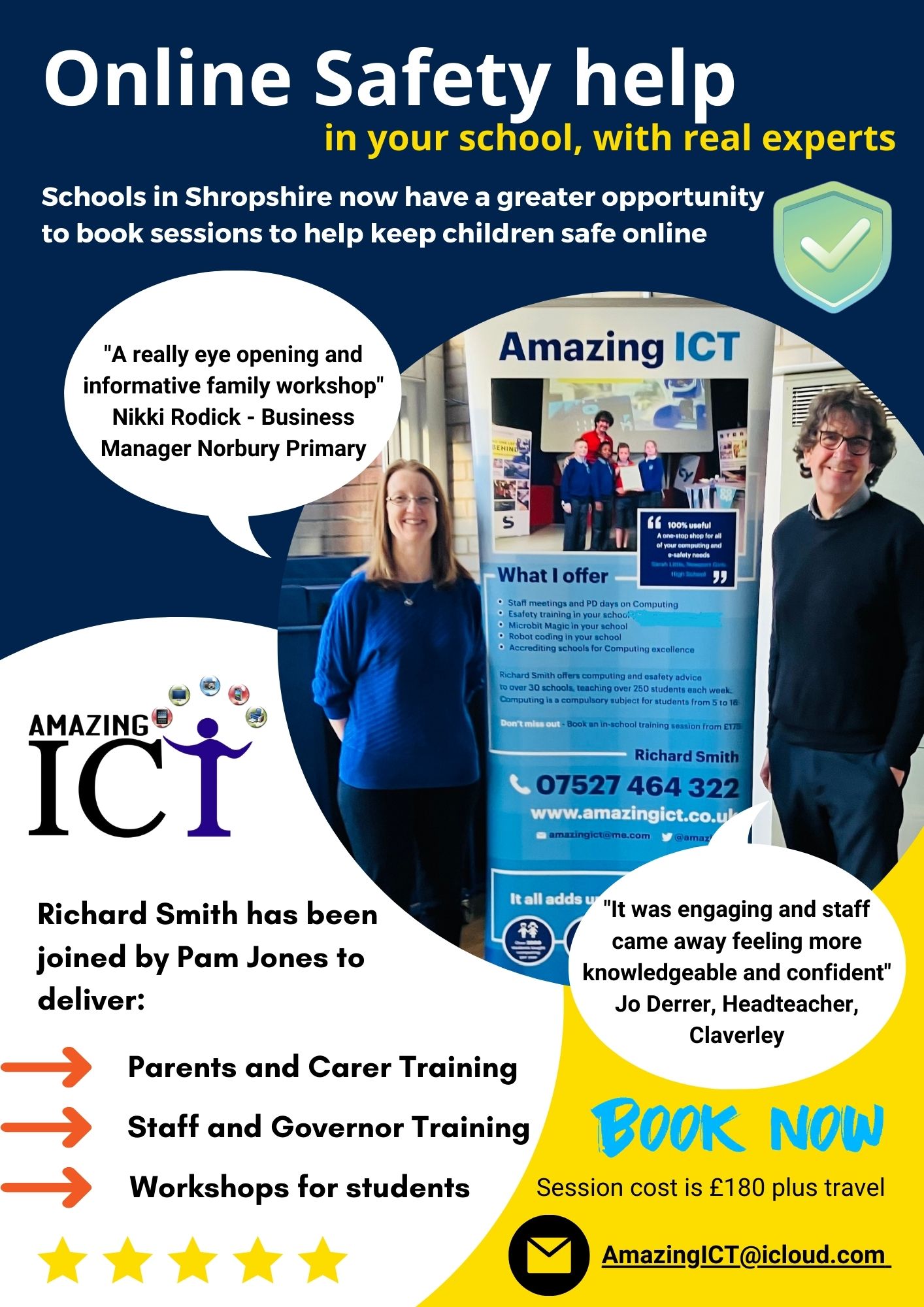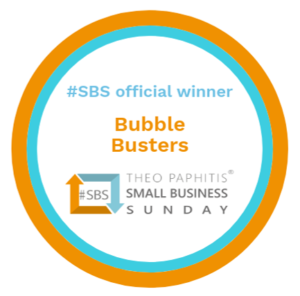 Staffordshire based Children's author gets a Twitter boost from Theo Paphitis.
A Staffordshire based author has received a business boost from Retail Entrepreneur Theo Paphitis. Last week, Pam Jones, author of Jack and the Bubble Busters and owner of Computing 4 Schools, tweeted Theo about her business during 'Small Business Sunday' and was one of six weekly winners to gain a retweet or repost by Theo to his over half a million Twitter and Instagram followers. The weekly initiative, set up by Theo in 2010, now has over 3,500 #SBS winners and supports small businesses in the UK. Business and retail entrepreneur and self-confessed Shopkeeper, Theo re‐tweeted Pam Jones's message to his over 500,000 Twitter and Instagram followers and as a result, www.bubblebusters.co.uk has more followers and extra orders for her children's book. They are also profiled on the #SBS website (www.theopaphitissbs.com) that is exclusive to all Small Business Sunday winners.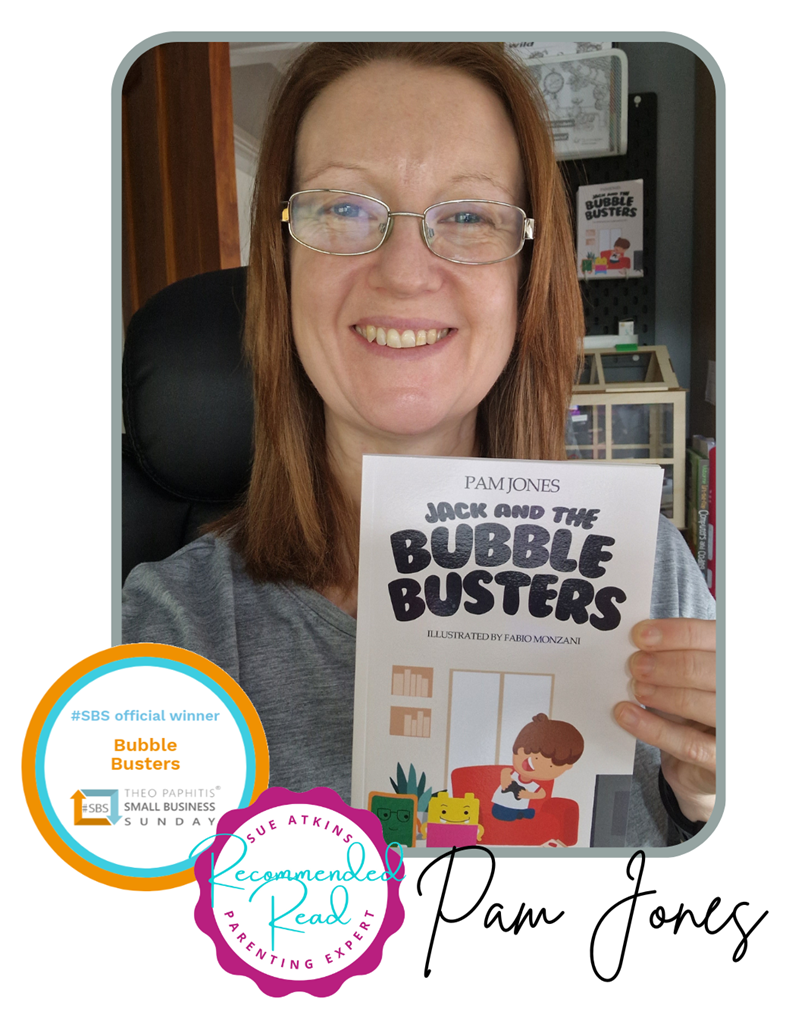 Jack and the Bubble Busters is the first book in a new series where Jack is recruited to become a Bubble Buster Hunter.
A Bubble Buster is someone who is online trying to steal your personal information and through challenges Jack is able to learn the identity of a Bubble Buster to report back to HQ. The book follows Jack through a challenge, meeting new friends with their own skills to help along the way. This book introduces children to problem solving skills. The aim of the book is to learn skills aligned to Computational Thinking. In this book children are introduced to decomposition and algorithms.

Jack and the Bubble Busters is a new children's book aimed at key stage 2 pupils aged 6 to 10 years old. Feedback has been more effective with school years 3 and 4 which is children aged 8-10. Mystery based story intorducing key concepts decomposition, algorithms and online safety. Key themes: Computational Thinking, Decomposition, Algorithms and Online Safety
I've had the pleasure of working with Pam for a year and highly recommend her! She helped our company create coding curriculum materials for online classes targeting ages 5-10. Not only was she willing to learn how our app worked, but she came up with original ideas for content as well, going above and beyond. Pam is great at taking an outline and flushing it out into details for teachers to easily understand. She creates informative tutorial videos, lesson plans, slide decks, and other materials that help our teachers successfully teach the content. She is great at taking feedback and ideating together on new content. She gets materials created in a timely manner and communicates consistently about her tasks. She asks questions for clarification and also presents possible solutions to challenges she comes across. Without a doubt, I highly recommend working with Pam when it comes to your curriculum needs!
As a computing subject lead, I recently decided to use "Jack and the Bubble Busters" to introduce computational thinking concepts to the whole school, and it was a huge success! The puzzles in the book really captured the attention of our Year 3 and 4 students in particular, but the whole school enjoyed the story and understood the ideas being presented. It was amazing to see how engaged the children were throughout the day. The story follows Jack, who becomes a 'Bubble Buster Hunter' and goes on some challenges with new friends he meets along the way. The book covers essential computational thinking concepts like decomposition and algorithms, which were easy for the children to understand. As an educational resource, I believe that "Jack and the Bubble Busters" is fantastic for any school aiming to make computational thinking accessible and enjoyable for their students.
- Luke Skywalker, Primary Computing Lead
Pam has worked with Hopscotch to help us develop a number of high profile computer science and STEM education programmes. She is great to work with, full of ideas and knows her subject inside out.
It has been a pleasure to work with Pam over the past year. Her expertise and experience in Computing have proved invaluable. Pam has conceptualized and written an entire course to meet both UK and US curriculum standards for computer science in an engaging way, incorporating narrative as a hook for students and how to guides and supporting resources for teachers. In addition, Pam's consistently positive, collaborative and problem solving approach have made her a wonderful team member. I highly recommend Pam.
Pam recently undertook a content audit and review for us here at Kapow. Not only was her work of high quality, she was also a dream to communicate with and utterly professional.
Pam bring in-class experience and a teacher's perspective to the content she writes and reviews. I asked her for 10+ blog posts, and each was robust with downloadable content and cited sources included. In addition, she was a pleasure to work with and I'd be happy to do so again in the future.
I worked with Pam during my time with KUBO Robotics and she was a great source of inspiration for our UK efforts. She has a solid understanding of the CS curriculum and with a houseful of her own children as well as years of teaching experience, knows best practice as well as theory. Pam also has a great network and super networking skills